Dental Implants – Edmonton, AB
Ushering in Restorative Technology & Treatments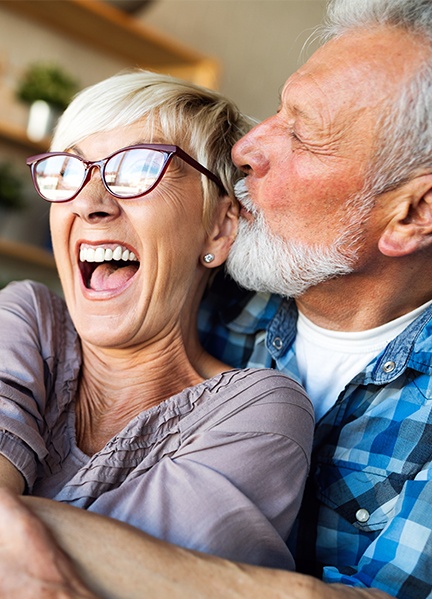 Are you missing one or more teeth and looking for a tooth replacement solution that rivals traditional bridges and dentures? Over the last few decades, the dental implant procedure has been successful. This treatment takes traditional restorations and enhances their performance by adding surgically placed implants to secure them in your mouth. To learn more about how dental implants from our Edmonton, AB dentist can help you regain a fully functional and beautiful smile, contact our dental office today to schedule a consultation with us!
Why Choose Sherbrooke Family Dental for Dental Implants?
Start-to-Finish Dental Implants Placement
We Accept
Dental Insurance
Beautiful, Custom-Crafted Dental Restorations
What is a Dental Implant?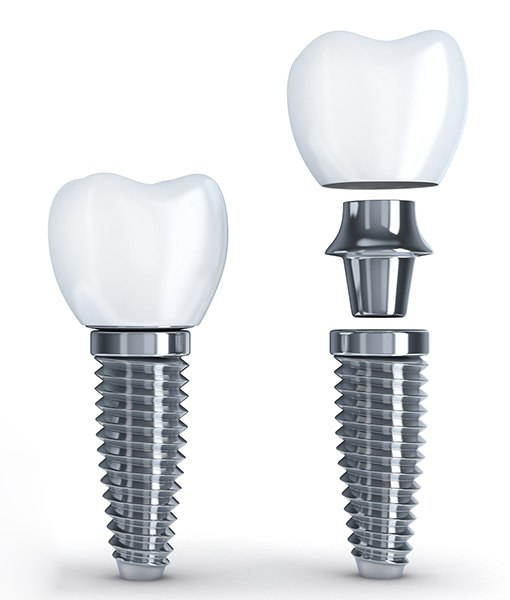 A dental implant is a small titanium post that is surgically placed below your gumline and into your jawbone to restore the missing roots of teeth. Due to the biocompatible nature of the metal, it's able to chemically fuse to your jawbone through a process called osseointegration. Once this is complete, we can then attach a connector piece, called an "abutment", to the implants that will hold your customized dental bridge, crown, or denture in place.
Benefits of
Dental Implants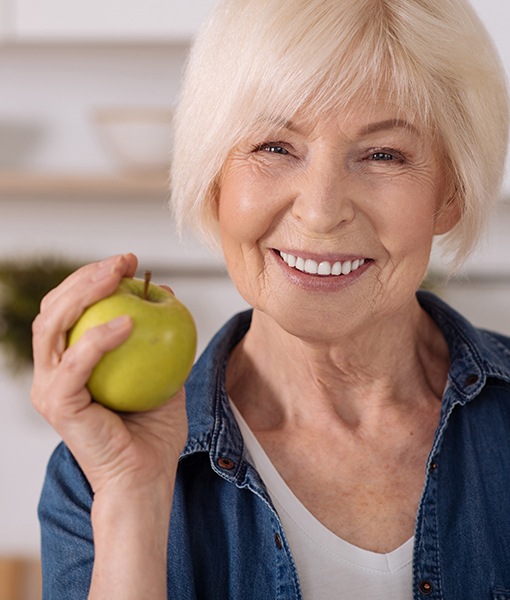 Dental implants are one of the most highly recommended tooth replacement treatments because they offer a variety of unique benefits that distinguish them from traditional restorations. Here are a few of the advantages you'll be able to enjoy with dental implants:
Natural Looking & Feeling: Implants are the only restorative treatment that replaces the entire structure of your natural teeth.
Enhanced Chewing & Speaking Abilities: Implants fused to the jawbone provide a more stable foundation, making it easier to eat and speak.
No Alteration to Surrounding Teeth: Traditional restorations like bridges require anchoring the prosthetic to your surrounding teeth. With implants, you won't have to worry about that.
Preservation of Jawbone: Due to the process of osseointegration, your implants will continue providing stimulation to your jawbone and keep it from deteriorating.
Prevent Hollow-Looking Facial Features: Since your jawbone won't be deteriorating, you won't need to worry about sunken-in or saggy cheeks since your facial structure will be preserved.
Are Dental Implants Right for You?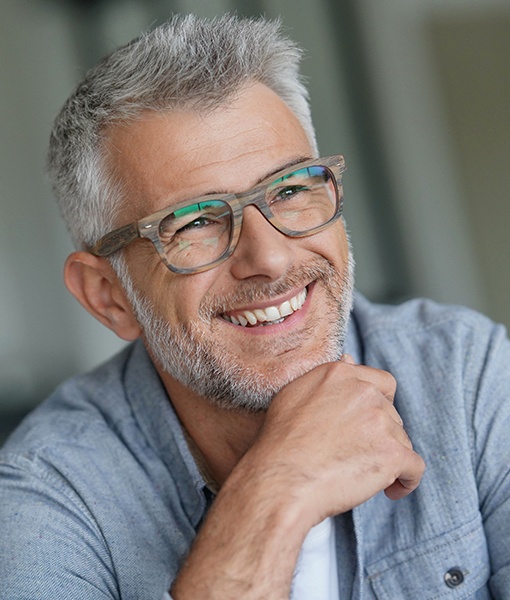 The best way to find out if dental implants are right for you is to schedule a consultation with our dentists. During your appointment, our team will collect X-rays of your mouth and conduct a thorough examination to help determine whether you're a good candidate. We'll ask you to provide us with your medical history as well. During this process, we'll be looking out for some of these qualities that help us determine whether dental implants are ideal for you:
Sufficient jawbone density or willing to undergo a bone graft procedure.
Dedicated to maintaining good oral hygiene.
No lingering, untreated oral health problems.
If you have a medical condition that impacts your immune system, it's being managed.
Willing to quit smoking and minimize excessive alcohol consumption.
Don't worry though, if you don't meet all of these requirements right away, we offer preparatory procedures and treatments to help get you there! Once we've determined that dental implants can help you, we'll then create a treatment timeline, so you know exactly what the process entails.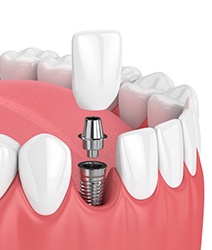 Missing Single Tooth
A single gap in your smile can be restored with one surgically placed dental implant. Once you've healed, we'll attach a small, metal connector piece to your implant, called an abutment. This will hold a customized dental crown in place, completing your arch of teeth.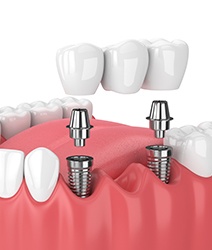 Missing Multiple Teeth
If you're missing two or more teeth in a row, we can replace them by inserting two dental implants, one at either side of the gap in your smile. Once the abutments are attached, we can secure a customized dental bridge to complete your smile.
Dental Implants Placed Right Here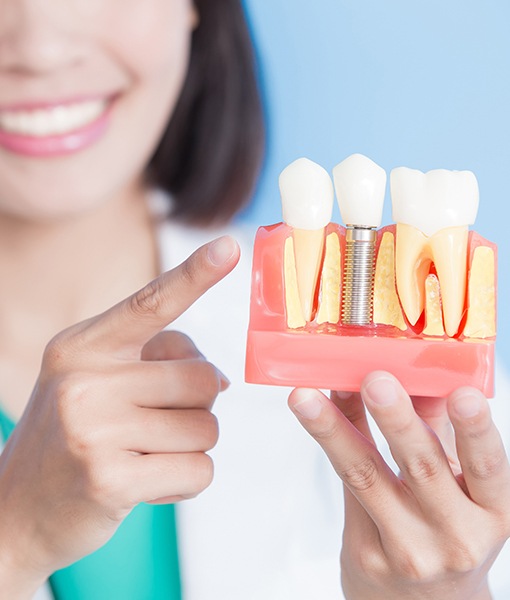 While other dental offices may need to refer patients to separate dental offices to have their dental implants surgically placed, our team is happy to provide this service right here in-house! This not only saves you valuable time, but also means you can undergo the entire treatment process with a team you already know and trust. We're proud to offer this important convenience, and you can always rely on us for trustworthy quality that puts your best interests first.
Understanding the Cost of Dental Implants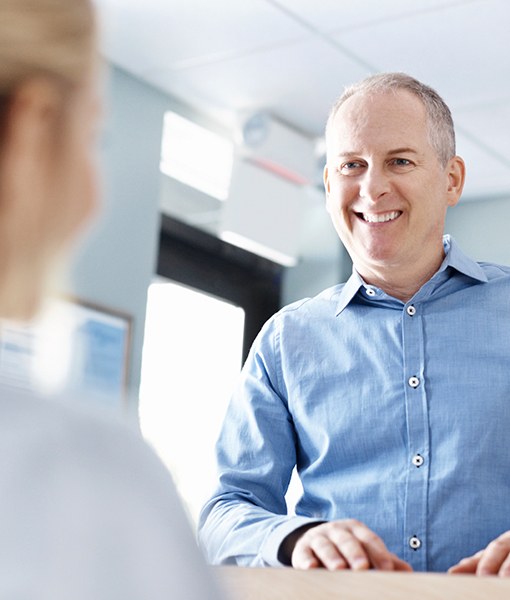 The cost of your dental implant procedure is based on a number of factors that are unique to your oral situation, including:
How many dental implants you need to have placed?
What type of restoration you require?
The timespan that you'd like to complete the process in
At Sherbrooke Family Dental, our team is happy to discuss payment and financing options with you after your consultation as well as outlining key, cost-impacting details of your procedure.