Dental Implants – Edmonton, AB
Ushering in Restorative Technology & Treatments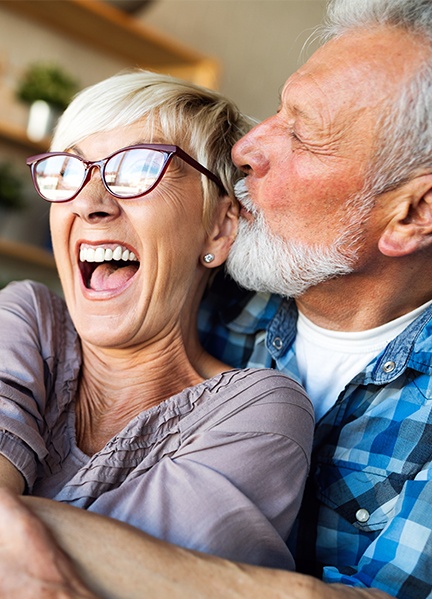 Are you missing one or more teeth and looking for a tooth replacement solution that rivals traditional bridges and dentures? Over the last few decades, the dental implant procedure has been successful. This treatment takes traditional restorations and enhances their performance by adding surgically placed implants to secure them in your mouth. To learn more about how dental implants from our Edmonton, AB dentist can help you regain a fully functional and beautiful smile, contact our dental office today to schedule a consultation with us!
Why Choose Sherbrooke Family Dental for Dental Implants?
Start-to-Finish Dental Implants Placement
We Accept
Dental Insurance
Beautiful, Custom-Crafted Dental Restorations
What is a Dental Implant?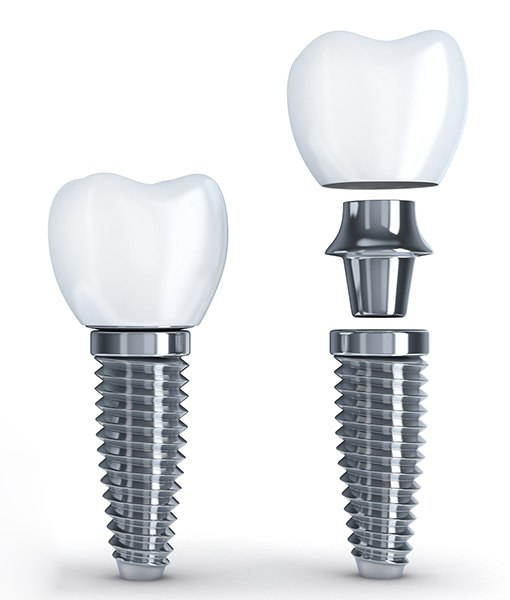 A dental implant is a small titanium post that is surgically placed below your gumline and into your jawbone to restore the missing roots of teeth. Due to the biocompatible nature of the metal, it's able to chemically fuse to your jawbone through a process called osseointegration. Once this is complete, we can then attach a connector piece, called an "abutment", to the implants that will hold your customized dental bridge, crown, or denture in place.
The 4-Step Dental Implant Process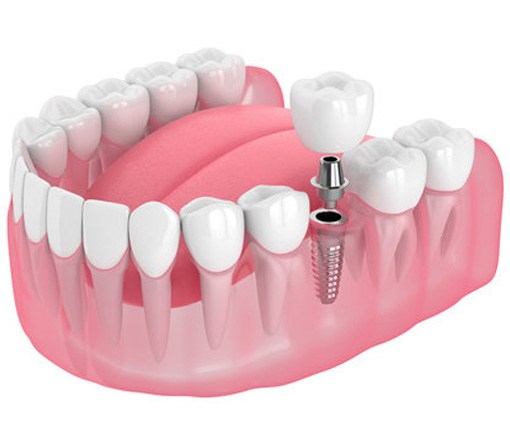 The process for receiving dental implants in Edmonton spans several months and can be divided into four unique steps—but don't let this deter you! Although it might seem like a huge commitment, dental implants are undoubtedly worth all of the time and effort invested. Here at Sherbrooke Family Dental, we're happy to walk you through each step of this process so that you can feel confident about restoring your smile with dental implants. Continue reading below to learn more.
Initial Dental Implant Consultation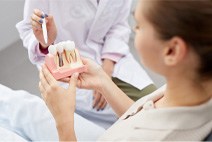 The first step toward receiving dental implants is attending your consultation with us. During this visit, our team will closely examine your mouth and facial structures, in addition to reviewing your medical history, to determine if implants are a viable option for you. In some instances, patients may need to undergo preliminary procedures to prepare their mouth for receiving implants. These treatments generally include things like supplemental bone grafts, gum disease therapy, and tooth extractions. Once you've been treated and cleared for implants, we can schedule your implant surgery!
Dental Implant Surgery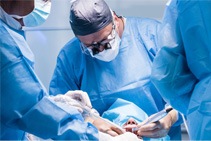 Our incredible team is able to complete the entire dental implant process in-house, meaning that you won't have to worry about coordinating visits with other offices. The actual implant surgery itself is a straightforward procedure. First, your mouth is numbed before small incisions are made in your gum tissue to access your jawbone. Next, the implants are carefully and precisely inserted directly into the bone before the gums are sutured shut. Finally, a protective cap is placed over the posts to protect them as they heal.
Dental Implant Osseointegration & Abutment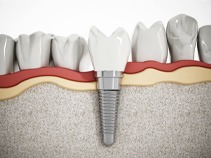 It normally takes three to six months for implants to naturally fuse with the jawbone. This fusion, called osseointegration, is arguably the single-most important stage of the entire dental implant process! You'll be given detailed instructions to follow to ensure that osseointegration occurs without interruption or delay; if your implants are unable to successfully meld with your jaw, they'll ultimately fail. Once this stage is complete, you'll need to return for a second, smaller surgery to receive your abutments. These metal connector pieces are placed on top of your implants and allow your restoration to sit in the correct position.
Delivery of Dental Implant Restoration(s)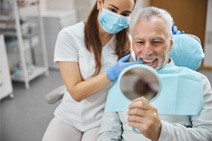 Your restoration will be designed based on impressions of your smile, meaning that once the replacement teeth are ready, you can expect them to look and feel exactly like your natural teeth! When they're ready, we'll call you back in to attach them to the abutments on top of the implant posts. We'll also check to make sure that your bite looks and feels normal and make any necessary final adjustments before sending you back out into the world with your newly restored smile!
Benefits of Dental Implants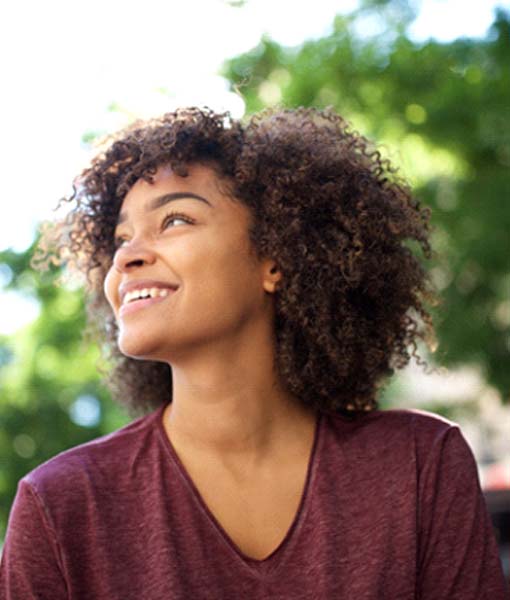 Did you know that over 500,000 dental implants are placed every year? There's a reason why the treatment is becoming ever more popular for replacing missing teeth. While dentures sit on the gums and bridges use natural teeth for support, dental implants are unique in that they're placed inside the jawbone, which in turn allows them to yield all kinds of benefits that can enhance your health, your quality of life, and your self-confidence. Below are some of the biggest advantages that you can enjoy if you choose dental implants to revitalize your grin.
Day-to-Day Benefits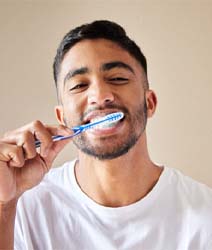 No Diet Restrictions: While traditional dentures do let you eat a variety of foods that you wouldn't be able to enjoy without teeth, they often have trouble with tough, chewy, or sticky foods. Dental implants keep your new teeth stable at all times so that you can comfortably eat whatever you want, so you can fully enjoy all your favorite meals again.
Easy Maintenance: Because dental implants are permanently anchored to your jaw, taking care of them is similar to taking care of natural teeth. This makes it very easy to take care of them compared to traditional dentures that might require you to purchase adhesive, soaking solution, and other products.
Improved Confidence: Dental implants look and feel very lifelike compared to other tooth replacements, and they don't slip out of place. You'll be able to laugh and smile at any time without having to worry that your teeth might move when they're not supposed to.
Health Benefits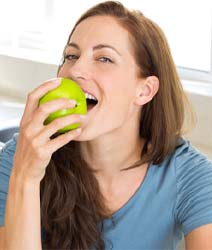 Strong, Healthy Jawbone: The jaw needs to be stimulated frequently to maintain its bone density levels. Lost teeth can lead to bone loss, but if you get dental implants, they can provide the necessary stimulation needed to maintain the jawbone.
Nutritious Diet: Being able to eat whatever you want can make your mealtimes more pleasant, but it also helps you maintain a more nutritious diet. Since you can eat whatever you want, you won't have any trouble eating the foods you need to stay healthy.
Better Oral Health: Because dental implants are so easy to clean, they can lower your risk of gum disease and other oral health issues.
Long-Term Benefits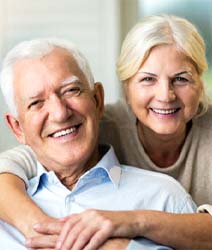 High Success Rate: The success rate of dental implant surgery is as high as 95% even 10 years after placements. In other words, when you get dental implants to replace your teeth, you're investing in an option that you can count on for the long term.
Longevity: Dentures and bridges need to be replaced every 7 or 10 years due to wear and tear. Dental implants are much more durable and are known to last for decades. With the right maintenance, you might even be able to keep them for the rest of your life.
Long-Term Investment: The higher initial cost of dental implants is often balanced out by their longevity and the various health benefits that they offer, allowing you to save time and money that would otherwise have to be spent on replacements and additional treatments.
Are Dental Implants Right for You?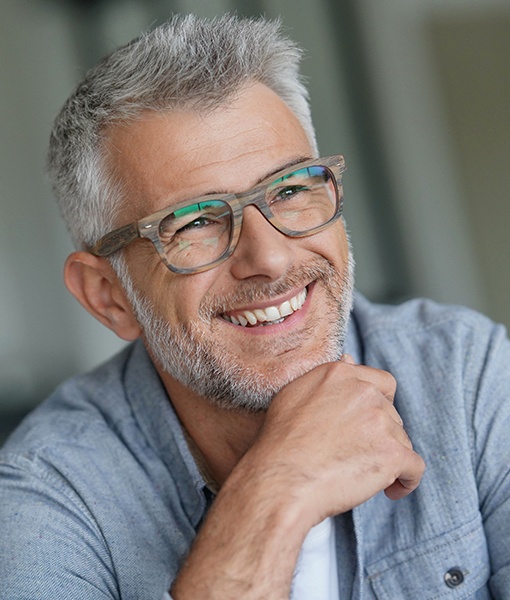 The best way to find out if dental implants are right for you is to schedule a consultation with our dentists. During your appointment, our team will collect X-rays of your mouth and conduct a thorough examination to help determine whether you're a good candidate. We'll ask you to provide us with your medical history as well. During this process, we'll be looking out for some of these qualities that help us determine whether dental implants are ideal for you:
Sufficient jawbone density or willing to undergo a bone graft procedure.
Dedicated to maintaining good oral hygiene.
No lingering, untreated oral health problems.
If you have a medical condition that impacts your immune system, it's being managed.
Willing to quit smoking and minimize excessive alcohol consumption.
Don't worry though, if you don't meet all of these requirements right away, we offer preparatory procedures and treatments to help get you there! Once we've determined that dental implants can help you, we'll then create a treatment timeline, so you know exactly what the process entails.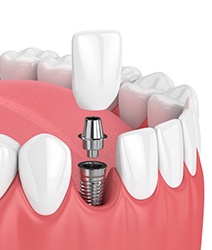 Missing Single Tooth
A single gap in your smile can be restored with one surgically placed dental implant. Once you've healed, we'll attach a small, metal connector piece to your implant, called an abutment. This will hold a customized dental crown in place, completing your arch of teeth.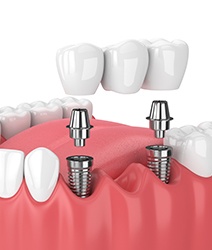 Missing Multiple Teeth
If you're missing two or more teeth in a row, we can replace them by inserting two dental implants, one at either side of the gap in your smile. Once the abutments are attached, we can secure a customized dental bridge to complete your smile.
Dental Implants Placed Right Here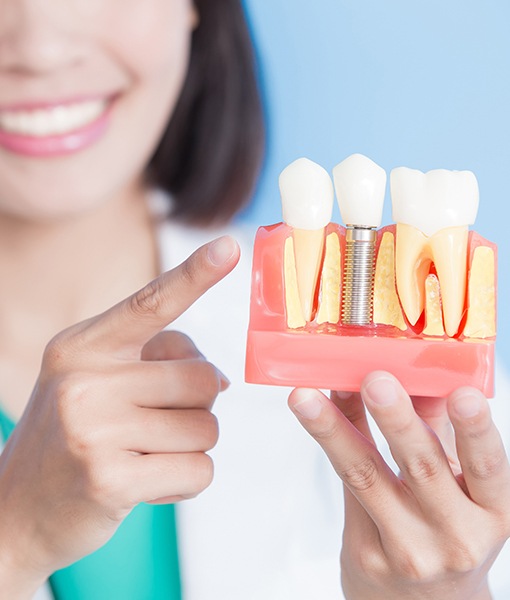 While other dental offices may need to refer patients to separate dental offices to have their dental implants surgically placed, our team is happy to provide this service right here in-house! This not only saves you valuable time, but also means you can undergo the entire treatment process with a team you already know and trust. We're proud to offer this important convenience, and you can always rely on us for trustworthy quality that puts your best interests first.
Understanding the Cost of Dental Implants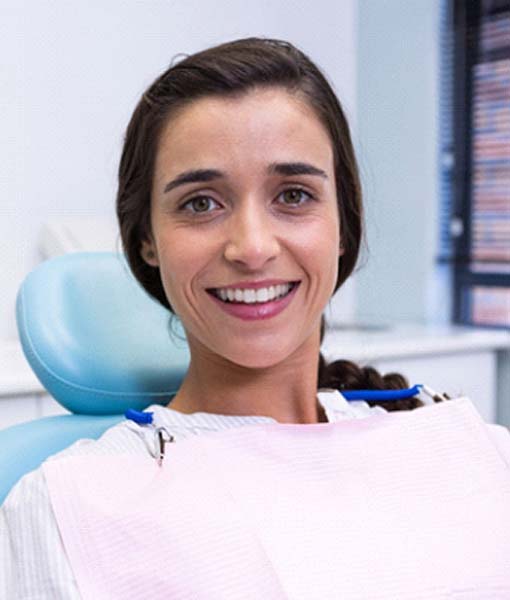 The price of dental implants is something that can vary dramatically depending on your situation because every patient has unique needs. Sometimes you might only have to pay to replace one tooth while in other cases there may be an entire arch to fill in. Our team will go over the different steps of the treatment with you and make sure that you fully understand the costs involved so that you can fit your new teeth into your budget without issue.
Preliminary Treatments & Dental Implant Surgery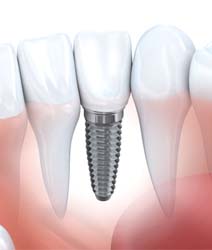 Gum disease therapy, tooth extractions, and bone grafting are all examples of preliminary treatments that might need to be performed before implant surgery. These procedures carry their own cost, but they are necessary for making sure your new smile lasts for the long term. Preliminary work is typically partially covered by insurance.
The cost of implant surgery depends on factors such as the location of the surgical site and the type of sedation needed. Fortunately, we can perform the treatment in-office, so you won't have to worry about being billed by another practice.
The Parts of Your Dental Implant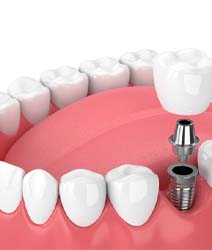 Different aspects of your dental implants can affect how much you end up paying for them. This includes:
The number of implant posts you need. Obviously, one implant does not have the same price as four or more implants.
The type of restoration you receive. Smaller restorations like single crowns tend to have smaller costs than larger restorations like dentures.
The material used to make the implants. Implants are traditionally made out of titanium, but sometimes zirconia is used instead.
The brand of implant. There are different implant manufacturers that offer various benefits to patients, and the manufacturer we choose has an impact on how much you end up paying.
How Dental Implants Can Save You Money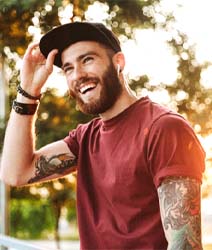 Some people try to save money by sticking with traditional bridges and dentures instead of getting implants. What they don't realize is that dental implants often end up paying for themselves because of the benefits that only they can offer. Dental implants can last for decades, so you don't have to pay to replace them. You also don't have to buy any special solutions for maintenance. Dental implants also help lower the risk of gum disease and other oral health issues because they're so easy to take care of compared to other tooth replacements.
Does My Dental Insurance Cover Dental Implants?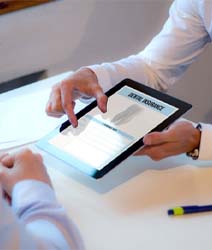 Most dental insurance plans don't include coverage for the actual dental implants (although there are exceptions). That said, parts of the final restoration or certain preliminary treatments often receive insurance benefits. We'll review your insurance plan with you to help you figure out what kind of coverage is available and how you can maximize it.
Making Dental Implants Affordable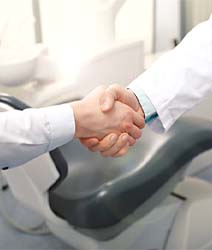 In addition to accepting dental insurance, we work with our patients to make sure they fully understand the costs of dental implants. Our team will give you reliable estimate to work with before you commit to the implant process so that you don't end up being caught off guard by the cost later.
Dental Implant FAQs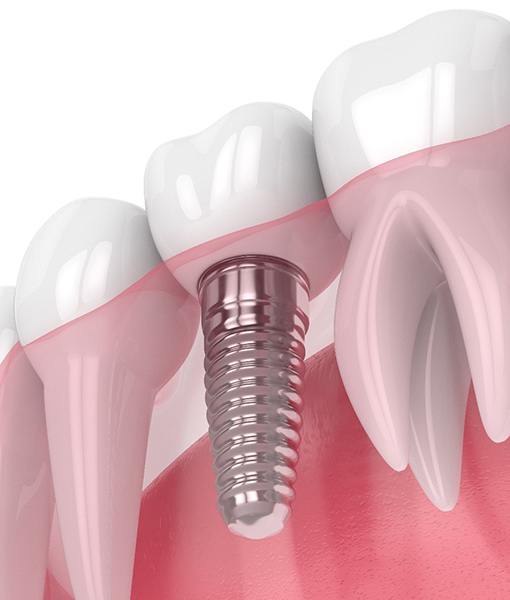 Dental implants in Edmonton are considerably superior to their traditional prosthetic counterparts. With millions of Americans already enjoying their immense benefits, it is believed more than 500,000 are placed each year. If you are an adult who is suffering from tooth loss and like the idea of pursuing permanent replacement teeth, we're happy to you're here. But we also understand you probably have many questions. This is why we invite you to review the following inquiries submitted to us by our previous patients. Contact our team if you have any questions or concerns.
How long do dental implants last?
The average timeframe for dental implants is about 30 years; however, there are instances where patients have enjoyed their permanent prosthetics for an entire lifetime! It largely depends on how well you take care of your new teeth. To extend their lifespan and ensure their longevity, it's necessary that you avoid unhealthy habits and foods, continue to see your implant dentist in Edmonton every six months, and practice optimal oral hygiene at home.
How successful are dental implants?
When placed by a trusted and skilled dental professional, dental implants are extremely successful. In fact, they're known to have a success rate of 95% initially. After 10 years, this rate only falls to 90-95%. Of course, much like the longevity of your dental implants, how well you take care of them will determine their success rate as well. Eating ice, not wearing a mouthguard while playing sports, and using your teeth as tools are all ways you can increase your risk for serious damage. However, taking appropriate care of your new teeth will ensure they remain in place for many years to come.
Am I too young to get dental implants?
When it comes to receiving dental implants, it is best if you wait until you are in your mid-20s before pursuing this option. The reason is that it is unlikely that your jaw will be fully developed until then. If they are put into place before the jawbone is developed enough, it can cause serious issues that result in dental implant complications. Also, there are other, safer solutions for individuals under the age of 18 or who are in their early 20s. Dental bridges and partial dentures can be used until it is time to consider dental implants.
Will I have to take off work for dental implant surgery?
Yes, you will need to take at least a few days off even if you only have one or two teeth replaced. The more implants that need to be placed, the longer you'll need to spend time recovering at home. This is why we often recommend that our patients schedule their surgeries for later in the week. This allows individuals to use the weekend as part of their recovery time instead of asking for more time off from work. However, even once you return to your job, you'll need to make sure you do not practice any strenuous activity, as this can delay healing.