Dentures – Edmonton, AB
The Answer to Moderate and Advanced Tooth Loss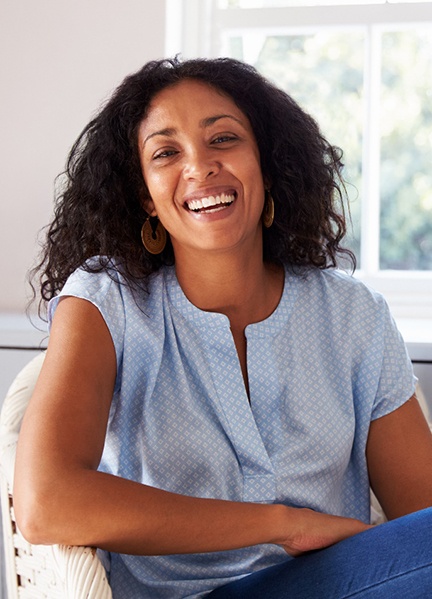 If you're struggling with tooth loss, then you know all too well the detrimental effects the gaps in your teeth can have on your smile, bite, and speech. Don't worry – you don't have to deal with the consequences indefinitely. With a lifelike appearance, high-quality materials, and complete customization, dentures in Edmonton are the answer to moderate and advanced tooth loss. To learn more about replacing missing teeth, get in touch with our team or read on!
Why Choose Sherbrooke Family Dental for Dentures?
Highly-Skilled Team of Dentists
In-House Dental Implant Placement
Realistic-Looking Dental Prosthetics
Who Is a Good Candidate for Dentures?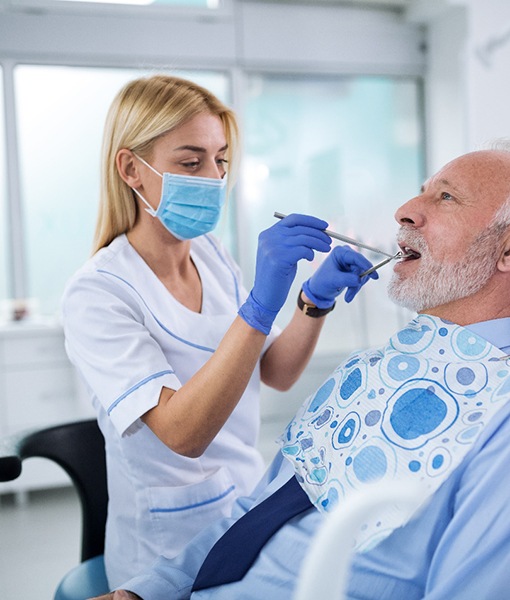 Before discussing the different types of dentures and the benefits they come with, it's important to answer an important question: Who is a good candidate? Thanks to advancements in dentistry, nearly everyone is! Even if an untreated dental problem, like gum disease, initially stands in your way, the appropriate restorative treatment can be administered beforehand. At your initial consultation, our dentist in Edmonton is mainly looking for a commitment to good dental hygiene and a good bill of oral health.
Types of Dentures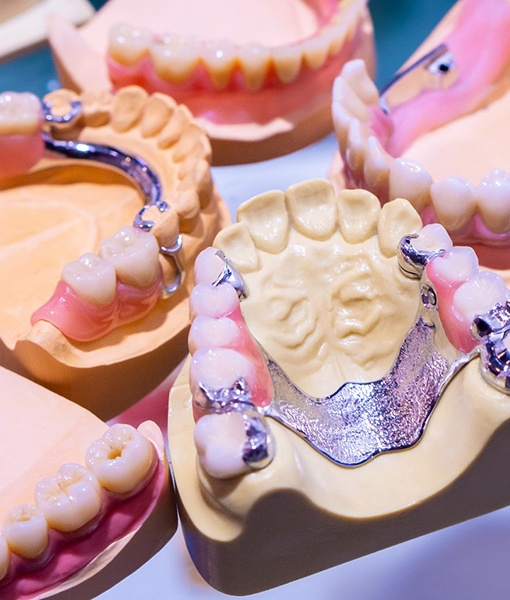 Dentures aren't a one-size-fits-all solution – that's one of the reasons modern ones are so lifelike! Depending on your dental needs, our dental team will recommend one of the following types:
Partial Dentures
Partial dentures are – as you might suspect – partial. Think of them like a puzzle piece that seamlessly fills the gaps in your smile while preserving any natural teeth you have left. To remain securely in place, they are held together with a metal framework that is discreetly hidden within the gum-colored base.
Full Dentures
Full dentures, on the other hand, are suitable for patients missing an entire arch of teeth. While they are similar to partials in that they have realistic-looking prosthetic teeth and a gum-colored base, they are different in that they are held in place with natural suction or denture adhesive.
Implant Dentures
Implant dentures are a combination of traditional dentures and innovative dental implants. By strategically placing a series of dental implants throughout your jawbone, the custom-made dentures can securely rest on top. The result is a gorgeous smile that looks as good as it feels.
The Benefits of Dentures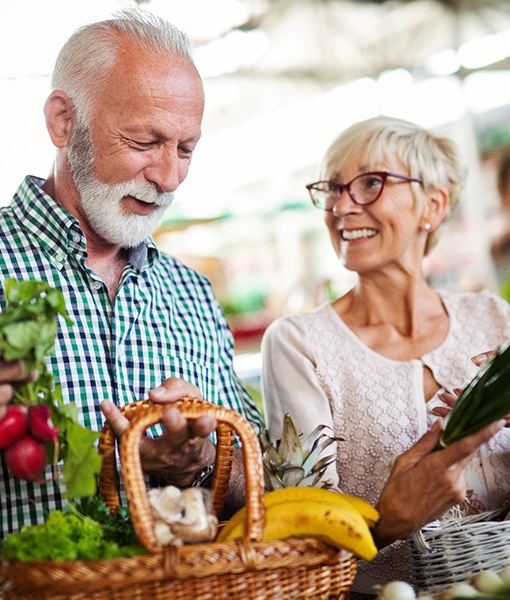 When it comes to tooth-replacement solutions, patients aren't limited on options. However, it's important to note that dentures in Edmonton come with a number of benefits, such as:
Restored biteforce
Lower upfront cost
Can last for a decade or more (with proper care)
Complete personalization
Improved confidence