Dentures – Edmonton, AB
The Answer to Moderate and Advanced Tooth Loss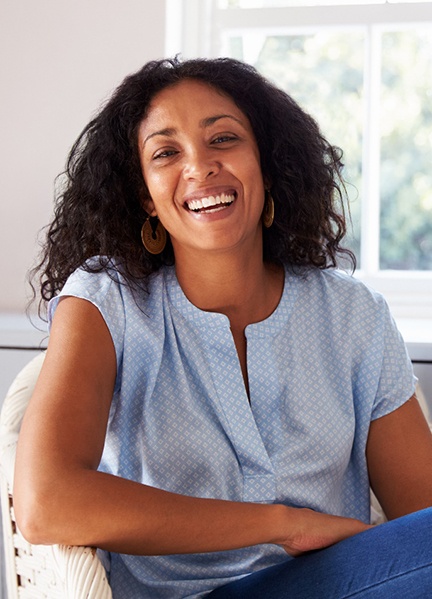 If you're struggling with tooth loss, then you know all too well the detrimental effects the gaps in your teeth can have on your smile, bite, and speech. Don't worry – you don't have to deal with the consequences indefinitely. With a lifelike appearance, high-quality materials, and complete customization, dentures in Edmonton are the answer to moderate and advanced tooth loss. To learn more about replacing missing teeth, get in touch with our team or read on!
Why Choose Sherbrooke Family Dental for Dentures?
Highly-Skilled Team of Dentists
In-House Dental Implant Placement
Realistic-Looking Dental Prosthetics
Who Is a Good Candidate for Dentures?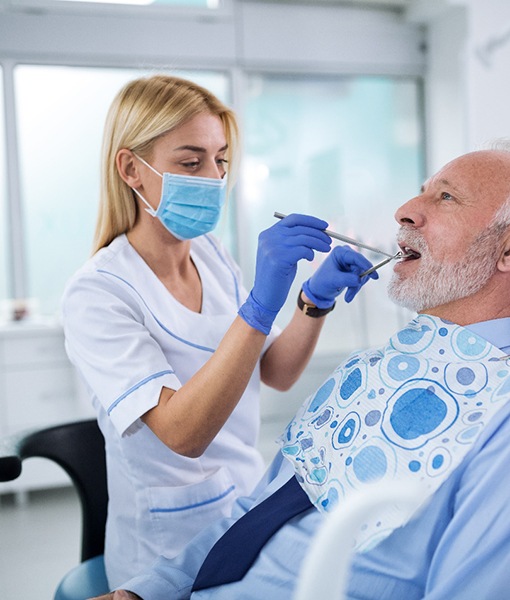 Before discussing the different types of dentures and the benefits they come with, it's important to answer an important question: Who is a good candidate? Thanks to advancements in dentistry, nearly everyone is! Even if an untreated dental problem, like gum disease, initially stands in your way, the appropriate restorative treatment can be administered beforehand. At your initial consultation, our dentist in Edmonton is mainly looking for a commitment to good dental hygiene and a good bill of oral health.
Types of Dentures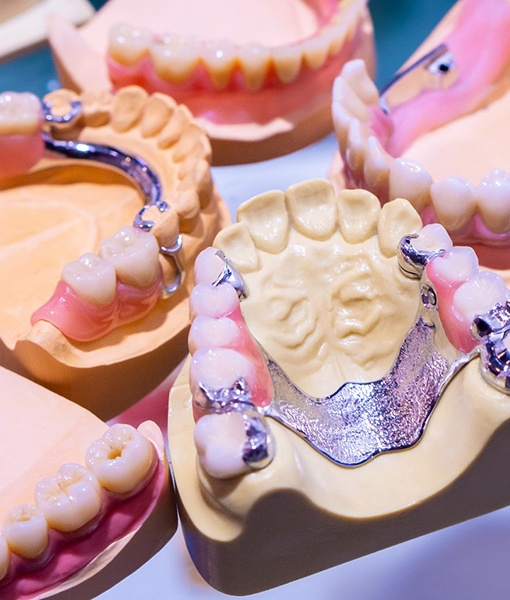 Dentures aren't a one-size-fits-all solution – that's one of the reasons modern ones are so lifelike! Depending on your dental needs, our dental team will recommend one of the following types:
Partial Dentures
Partial dentures are – as you might suspect – partial. Think of them like a puzzle piece that seamlessly fills the gaps in your smile while preserving any natural teeth you have left. To remain securely in place, they are held together with a metal framework that is discreetly hidden within the gum-colored base.
Full Dentures
Full dentures, on the other hand, are suitable for patients missing an entire arch of teeth. While they are similar to partials in that they have realistic-looking prosthetic teeth and a gum-colored base, they are different in that they are held in place with natural suction or denture adhesive.
Implant Dentures
Implant dentures are a combination of traditional dentures and innovative dental implants. By strategically placing a series of dental implants throughout your jawbone, the custom-made dentures can securely rest on top. The result is a gorgeous smile that looks as good as it feels.
The Benefits of Dentures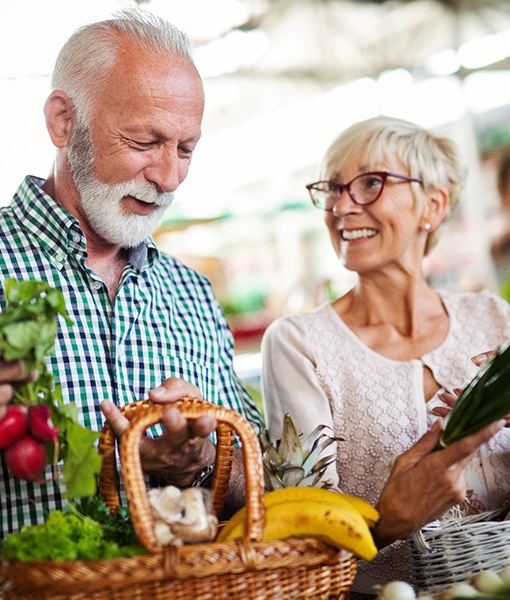 When it comes to tooth-replacement solutions, patients aren't limited on options. However, it's important to note that dentures in Edmonton come with a number of benefits, such as:
Restored biteforce
Lower upfront cost
Can last for a decade or more (with proper care)
Complete personalization
Improved confidence
Understanding the Cost of Dentures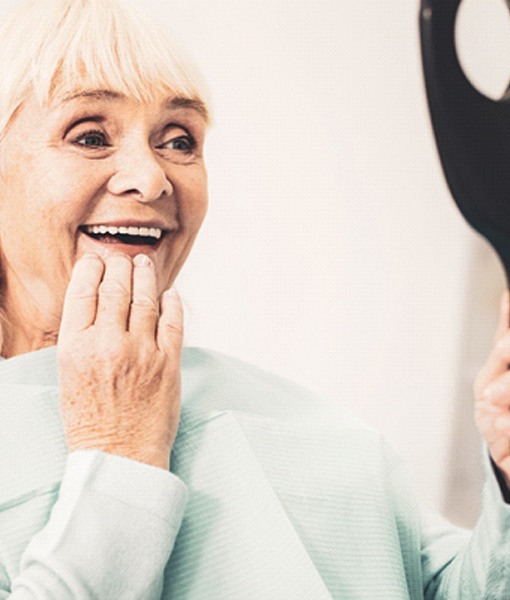 The cost of dentures in Edmonton varies from patient to patient. Generally speaking, they are one of the most affordable and cost-effective forms of tooth replacement. During your consultation, we will consider all of the factors that affect price and provide you with a personalized estimate. We will also help you explore your payment options and do everything we can to help you fit your prosthetic into your budget.
Factors that Affect the Cost of Dentures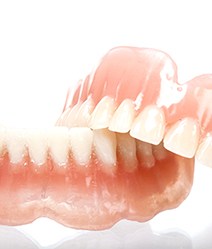 Some of the top factors that influence the cost of dentures include:
Preparation. You may require gum disease treatments, extractions, or another procedure before you can receive dentures. Each of these services has its own cost.
Materials. Dentures usually have an acrylic base and acrylic or porcelain teeth. The specific brand and type of materials used will have a bearing on your treatment's total cost.
The type of denture. Implant dentures, partial dentures, and full dentures in Edmonton all have different price points.
You might occasionally come across deals for "bargain dentures," but be sure to scrutinize any such offers carefully. Some patients have used such deals only to find that their dentures are lacking in quality or that their total cost was much more than they anticipated.
Are Implant Dentures More Expensive?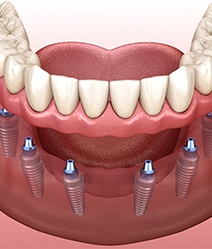 Yes, implant dentures cost more than traditional dentures. This is logical, since the implant denture process require significantly more time and materials. Plus, placing dental implants requires a high degree of skill and training. Most patients who invest in implant dentures are more than happy with their decision. Implant dentures last longer, provide a stronger bite force, and deliver more overall benefits than their traditional counterparts. In fact, they last so long that they may actually be a better monetary value than traditional dentures, which typically require replacement every 5 – 7 years or so.
Does Dental Insurance Cover Dentures?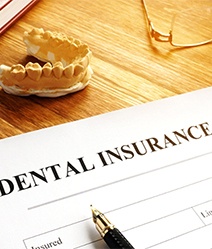 In most cases, yes, dental insurance covers at least a portion of the cost of dentures. It is also likely to apply to any necessary preliminary treatments. Our team will be happy to help you learn how your policy applies and file your claims. We are used to dealing with the ins and outs of insurance, and we will be your guide as you strive to use your policy to its greatest potential.
As your denture dentist in Edmonton, we want you to be able to afford your prosthetic! To find out more about the cost of tooth replacement and how our team can help you navigate the financial aspects of your treatment, give us a call. We look forward to serving you!
Dentures FAQs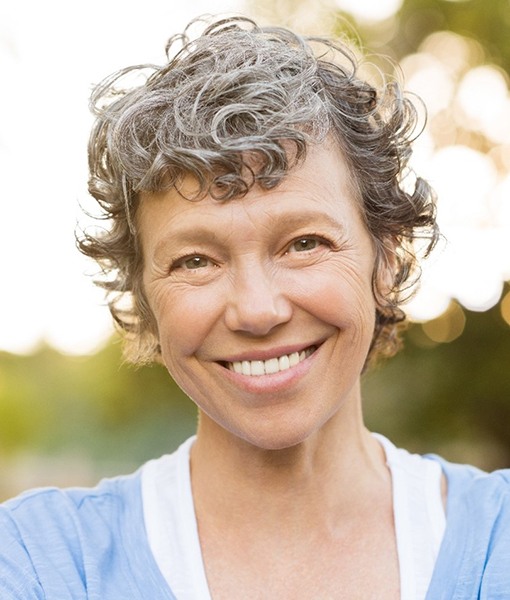 When you have questions about dentures in Edmonton, it's important that you seek the help of a trusted professional who can provide clear and concise answers. Fortunately, at Sherbrooke Family Dental, our team of experts is here to make sure you have all the information you need to make the appropriate decision for your future smile. Unsure if dentures are the right option for a full, complete smile? Check out the list of common questions below and contact us if you have any additional concerns.
Can I Sleep With My Dentures?
While there is no definitive rule stating you cannot sleep with your dentures in, your denture dentist in Edmonton will highly discourage this practice. The reason is that your gums and bone need time to breathe and retain vital nutrients lost throughout the day. Also, it allows your prosthetics the chance to soak and become cleansed of any bad bacteria and particles that could be damaging to your soft oral tissues. Finally, if bacteria build beneath your prosthetics while you sleep, which it will, it increases your risk for pneumonia.
Is It Hard to Talk with Dentures?
When you first receive your dentures, it can be challenging to speak with them. Of course, you'll want to keep your dentures firmly in place and avoid removing them, as this will help you to become more accustomed to your new smile.
Your tongue, gums, and cheeks need to adjust to the newness, so you may find it helpful to start by speaking slowly and reading to yourself. If you notice a slight lisp, do not be discouraged, as this is normal and only temporary. By practicing your syllables and sounds, you'll begin to form words more clearly, and the lisp will begin to dissipate over time.
Can I Use Regular Toothpaste to Clean My Dentures?
While it might not seem like a big issue to use regular toothpaste to clean your dentures, you'll want to avoid it at all costs. The reason is that it is highly abrasive and can scratch your prosthetics. Your dentist will likely recommend various non-abrasive toothpaste brands to ensure your new teeth remain healthy and damage-free for as long as possible.
Will Dentures Change the Shape of My Face?
One of the great benefits associated with traditional dentures is that they help to fill out your face. This can be a life-changing advantage, especially if you've been living without teeth for quite some time. Complete dentures fill in the gaps and create a more youthful appearance. Instead of embracing a sagging and "collapsing" facial structure, your dentures will help to lift and define a beautiful shape to your face.