Invisalign – Edmonton, AB
Addressing Misalignment & Bite Problems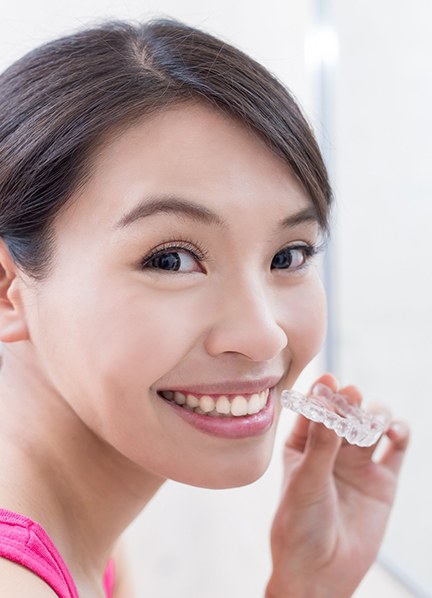 At Sherbrooke Family Dental, we offer Invisalign orthodontic treatment to help you address crooked, crowded, gapped, and misaligned teeth, as well as bite problems. No matter your age, fixing orthodontic issues is crucial to good oral health as well as a beautiful and straight grin. To learn more about how you can address these issues while maintaining a professional or discreet appearance, schedule a consultation today to discuss Invisalign in Edmonton, AB.
Why Choose Sherbrooke Family Dental for Invisalign?
Great for Patients
of All Ages
We Accept
Dental Insurance
Discreet Orthodontic
Treatment
Invisalign® Clear Braces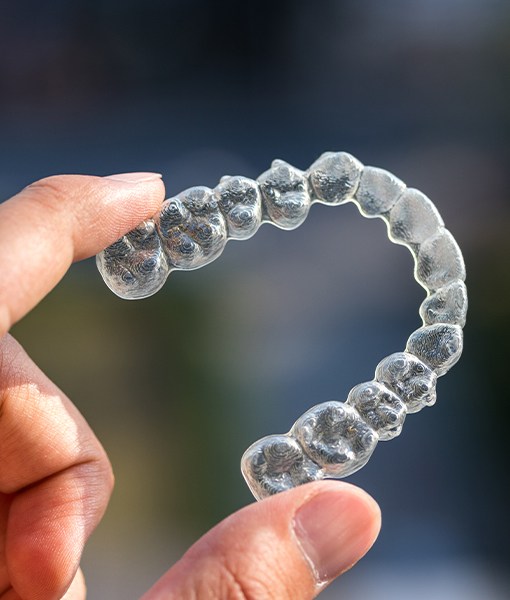 Invisalign is a modern orthodontic treatment that uses custom-crafted, clear trays to gently and strategically shift your teeth into their ideal positions. Every six to eight weeks, you'll visit our dental office for a quick checkup and to pick up your next series of trays in your treatment. This way, you don't have to endure regular, uncomfortable visits where we "tighten" your appliance. Because your aligners are removable, you also won't have to worry about altering your daily diet or having difficulty brushing and flossing throughout your treatment, because all you need to do is remove them beforehand!
Benefits of Invisalign®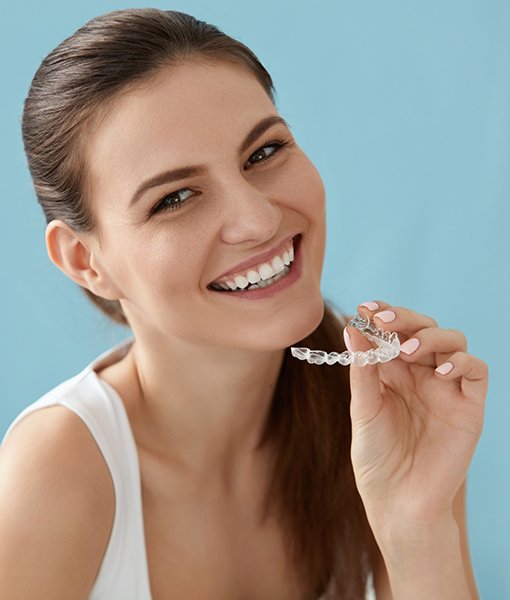 Invisalign offers a variety of unique benefits that make it a popular choice among teens and adults alike. Some of the advantages that you'll be able to enjoy while undergoing treatment include:
Discreet orthodontic appliance
Easy to brush and floss your teeth throughout treatment
Removable aligners allow you to eat all of your favorite foods
Aligners are easy to clean
Shorter average treatment time
Shorter routine dental office visits
More comfortable to wear
Can address mild to moderate orthodontic issues
If you have any questions about Invisalign, don't hesitate to call us and ask!
Understanding the Cost of Invisalign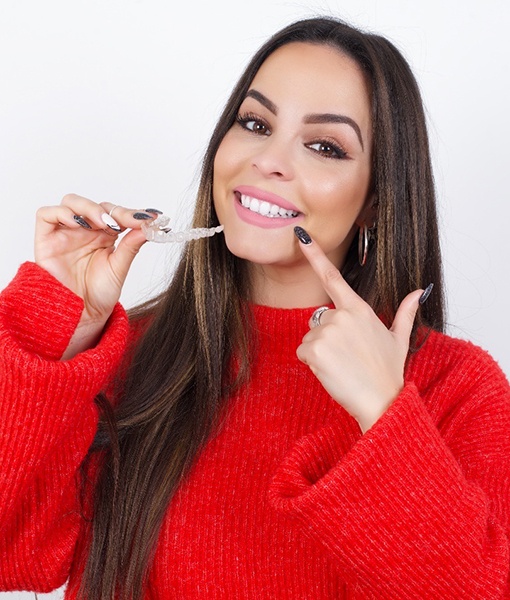 One of the most common questions we get asked about Invisalign is, "How much does it cost?" There isn't always a straightforward answer because each case is unique. When you visit us for your consultation, we will be able to provide a personalized price estimate. In the meantime, you can read on below to learn more about the cost of Invisalign in Edmonton.
Factors that Affect the Cost of Invisalign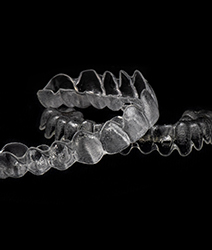 Some of the major factors that affect the cost of Invisalign include:
The extent of your treatment. It usually costs more to treat both dental arches rather than just one.
The nature of your dental misalignment. Someone with minor aesthetic misalignment is likely to pay less than someone who is suffering from severe orthodontic issues.
The number of aligners you require. Some cases are completed in just a few months and require only a handful of aligners. More complex cases may take a year or longer and require much more time, attention, and money.
Invisalign vs. SmileDirectClub™: Comparing Value with Price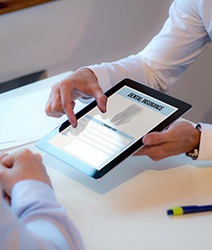 SmileDirectClub™ and other similar DIY clear aligner programs cost less than Invisalign in Edmonton. In fact, the difference in price can be thousands of dollars in some cases. However, you must also consider the difference in value.
Although SmileDirectClub™ may seem appealing at first, remember that the treatment program does not come with any direct oversight from a dental professional. That creates a greater margin for error. For example, you may have to take your own manual impressions, which is easy to get wrong if you do not have professional training. A small mistake could lead to inaccuracies that are expensive to correct.
Invisalign provides a superior value because of everything you get with it. The aligners are made out of a patented material that is designed for comfort and precise tooth movements. You will always have the support and guidance of our experienced team. Plus, we use advanced technology that promotes accuracy every step along the way.
Does Dental Insurance Cover Invisalign?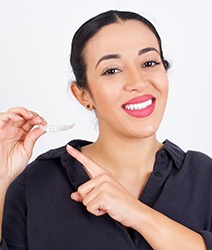 You will have to check your specific benefits to see how they apply. Some dental insurance policies do cover orthodontic treatment, including Invisalign in Edmonton. Typically, plans pay for about 50% of the cost of treatment, up to the amount of the plan's orthodontic lifetime maximum. Our team is used to dealing with the ins and outs of insurance, and we will be happy to help you understand your coverage and file claims on your behalf.
Options for Making Invisalign Affordable
As your Invisalign dentist in Edmonton, we want to help you afford your treatment! You can depend on us to be straightforward with you about the cost of Invisalign, and we will help you understand your payment options as well. For example, if you have an FSA through your employer or an HSA, we can help you use that for your treatment.
Would you like to learn more about the cost of Invisalign? Our team is ready to assist you, so why not schedule a consultation with us as soon as possible?